Celebrating Women of History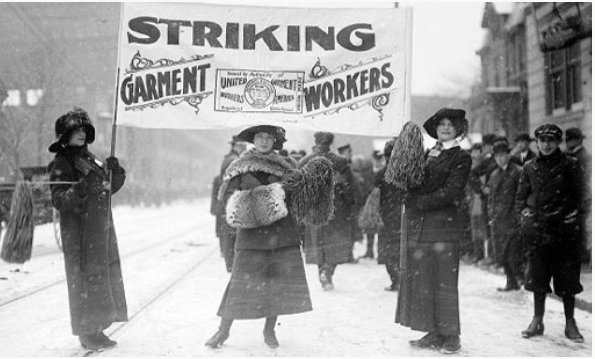 Garment workers strike in New York 1908: Photo courtesy 100 Years Ago
International Women's Day
Yesterday, the world celebrated International Women's Day. A day to recognize women for their achievements without regard to ethnicity, linguistics, cultural, economic or political differences. The tribute was born out of labor movements at the turn of the twentieth century in North America and across Europe. The first International Women's Day was observed in 1909, a year after the Socialist Party of America designated the day to celebrate the 1908 garment workers in New York state, where women protested working conditions.
Charleston's Women of Influence
Since it's early days a century ago, International Women's Day has been a rallying point to build women's rights. Here in Charleston, we owe so much to our past, a history that was originally protected by some of our finest women. In honor of March being International Women's Month, we'd like to take a moment to recognize the efforts of Charleston's original influencers -some you may have heard about, and others whose efforts have largely gone unrecognized. Each of them contributed in their own way to help make Charleston such a wonderful place to live.
Susan Pringle Frost
In 1909 Susan Pringle Frost began her crusade for the preservation of Charleston's historic buildings by borrowing money to purchase two small properties on the east end of Tradd Street, one of the city's oldest streets. In time, she would become Charleston's first female realtor and the inspiration for preservationists who followed her footsteps. Ms. Frost rehabilitated a number of properties around Tradd Street, East Bay, and St. Michael's Alley from the slum-state that had befallen them by the early part of the 20th century. In 1920, Miss Frost founded the Society for the Preservation of Old Dwellings, later to be called the Preservation Society of Charleston, the oldest community-based historic preservation organization in America. According to her biography, Preserving Charleston's Past, Shaping Its Future by Sidney R. Bland, "she was an early advocate of zoning to preserve old iron and woodwork, and she championed Charleston's zoning ordinance of 1931, which created the nation's first historic district. Frost regularly swamped Charleston newspaper editors with letters about preservation goals and needs, and became celebrated for her public service and quaint eccentricities. Her historic preservation initiatives contributed substantially to the movement that transformed the streets of Charleston and made it a national tourist destination."
Rainbow Row, East Bay Street, Charleston, SC
Dorothy Haskall Porcher Legge
In the 1920s, Ms. Frost bought six buildings on the section of East Bay Street now known as Rainbow Row, but she lacked the money to restore them immediately. In 1931, Dorothy Haskell Porcher Legge purchased a section of these homes numbering 99 through 101 East Bay and began to renovate them; they were the first homes of the 13 dwellings that make up Rainbow Row to be restored. She chose to paint these houses pink based on a colonial Caribbean color scheme. Other and future owners followed suit, creating the "rainbow" of pastel colors present today. By 1945, most of the houses had been restored. Mrs. Legge was recognized for her groundbreaking restoration work on the house with an award from the Preservation Society of Charleston in 1992; detailed plans of the house were produced for the Historic American Buildings Survey and can be viewed here.
Alice Ravenel Huger Smith
One of Charleston's most renowned artists, Alice R. Huger Smith developed two completely different styles: pencil drawings for architectural publications and impressionist watercolors for sale. A number of books about the Lowcountry and life in Charleston were published at the beginning of the 20th century, but the architecture of the city had barely been considered. In 1917, Miss Smith and her father, D. E. Huger Smith published The Dwelling Houses of Charleston, one of the first studies of architecture of an American city. Miss Smith went on to publish a number of books, both with and without her father's collaboration, and their work had a great impact on the appreciation of the architecture of Charleston. It is unlikely that early preservation efforts would have existed without the architectural renderings of Miss Smith.
15 Meeting Street. Alice R. Huger Smith and D. E. Huger Smith, The Dwelling Houses of Charleston, 1917. via http:// halseymap.com
Frances Ravenel Smythe Edmunds
Frances Ravenel Smythe Edmunds achieved national recognition as an advocate for historic preservation. In 1947, she was the founding director of the Historic Charleston Foundation and served until her retirement in 1985. Under Mrs. Edmunds' leadership, the foundation played a major role in the preservation of Charleston's unique architecture and character. President Jimmy Carter appointed her to the Advisory Council on Historic Preservation, and she was a trustee of the Thomas Jefferson Memorial Foundation at Monticello. In 1971, the National Trust for Historic Preservation presented Mrs. Edmunds its highest honor, the Louise DuPont Crowninshield Award.
Mary Vardrine McBee
In 1909, Mary Vardrine McBee bought the James Nicholson House at 172 Rutledge Avenue from the Witte daughters to found an independent college preparatory school for girls, Ashley Hall. During her 40 year tenure as Headmistress of the school, Miss McBee grew the campus to include an indoor swimming pool, the "Old Gym" (Burges auditorium), kitchen and dining room, the Headmistress House, and faculty apartments. According to a January, 1935 issue of the Evening Post, Miss McBee bought real estate on the south side of Mason's Court (now Talon Court) as well as on the west side of Smith Street. An undated "Do You Know Your Charleston" article from the Post and Courier entitled "Former Dives Transformed into Modern and Attractive Homes, Improving Entire Neighborhood of Ashley Hall" gives a glimpse into what Miss McBee had actually accomplished and the photographs below from the book Ashley Hallby Ileana Strauch confirm her achievements.
Preparing for a photo, 1910
Miss McBee acquired 11 homes in total with that property acquisition in 1935. She was the first woman--and one of the first citizens--of Charleston to take advantage of the New DealFederal Housing Administration loans. The loans were meant to be used to improve living quarters and provide work for those that needed it during those difficult times. The article states that Miss McBee had already restored 3 of the 4 houses on Smith Street and rearranged other buildings to make better use of them: "Of the other 7 houses, all of which occupied the area back of the 3 restored houses fronting Smith Street, 2 have been torn down and the other 5 converted to the use of the girl's school...The 5 houses were moved around to afford an enlarged playing field for the girls...to be used for a dramatic club, a clubhouse, an art studio, classrooms for the first 4 grades, and a storage house."
Top: Lower school campus, 1903s
Bottom: converted 131 Smith Street, 1930s
The Pollitzer Sisters
Three sisters from Harleston Village began to change the landscape of Charleston with their advocacy work during the National Progressive Moment in the early 1900s. After graduating from Memminger Normal School, Carrie Pollitzer moved to New York City to study at Columbia's Teacher College. Upon her return to the lowcountry, Carrie established Charleston's first free kindergarten in a carriage house behind her family home on Pitt Street.
Carrie Pollitzer, ca. 1905 Anita Pollitzer Family Papers, South Carolina Historical Society
Mabel and Anita Pollitzer, ca. 1930-40. Anita Pollitzer Family Papers, South Carolina Historical Society

Teacher by trade, Mabel Pollitzer worked tirelessly to secure the right to vote for women. She became a charter member of the Charleston Equal Suffrage League founded by Susan Pringle Frost. She later joined the National Women's Party and worked along side her two sisters to secure voting rights for women throughout the United states. In the 1930s Mable worked tirelessly to create a free library for residents of Charleston. She remained a trustee with the library for more than 30 years.
Youngest sister Anita followed in her sisters footsteps, advocating for the ratification of the Nineteenth Amendment. Throughout the 1920s Anita worked at the national level with the National Women's Party, to secure property and citizenship for women, and to remove hourly limitations for women in the workplace. She was also a close friend of artist Georgia O'Keeffe and played an active role in promoting modern art in the United States. A historic marker outside their Pitt Street home shows just what a difference these three sisters made.
Walking in their Footsteps

Several great properties near the Pollitzer's family home are new on the market. Eleanor is pleased to present 17 Pitt Street, an 1890 Charleston Single with a guest house. Lois is showing two houses in the area. The first is a circa 1842 kitchen house located at 173 1/12 Wentworth Street.
Featured below is 54 Smith Street, this historic home features french doors leading to a wrap around porch. Inside, high ceilings and hardwood floors throughout. If you are interested in learning more about this lovely home or want to schedule a showing, contact Lois at 843-270-2797.