Are y'all looking for something to do this weekend? Well, it's your last chance to tour the 38th Annual Designer Showhouse sponsored by the Charleston Symphony Orchestra League (CSOL). The 1846 parsonage of St. Johannes Lutheran Church at 50 Hasell Street has been transformed into a showcase by some of the Lowcountry's most talented interior designers. The property will be open 10 a.m.- 4 p.m. on Friday and Saturday, and from 1-4 p.m. on Sunday. This is a great organization--our own Kate Dolan is an active member--perhaps you'd like to be involved?


Since Lois and Ruthie started selling real estate in the early 80s, they've listed or sold at least a half-dozen of the homes that have been featured as Symphony Designer Showhouses, including the gorgeous home at 24 Wentworth Street, one of Lois's current listings.


But one of our favorites has to be the one Lois just listed for sale this week: the stately home at 6 Legare Street. When the home was transformed into a showhouse in 2000, some history and a number of old family photos were included in its brochure--which of course, we love!


The house was built around 1887 by Willis Wilkinson, who was the grandson of Judge Daniel Elliott Huger, one of South Carolina's U.S. senators, and also great grandson of Arthur Middleton, who signed the Declaration of Independence. He was a superintendent of cotton compresses in Charleston. In 1880, he bought the back parcel of land at 28 Lamboll Street (the eastern part of the double-tenement built by Kincaid in 1772) from his brother-in-law, Christopher Gustavas Memminger. Three years later, Willis combined this land with the adjacent back lot that he acquired from his family, who lived in the western Kincaid tenement at 30 Lamboll (now 4 Legare). He reused bricks from a large carriage house that was built in the 1770s for the tenement building to construct one of the ground-floor walls. In 1890 he moved to Florida and gave his younger sister the house for as long as she lived.


Willis' sister, Isabella (Bella) Middleton Wilkinson Jervey and her husband Eugene Postell Jervey were married in 1869, raised eight children, and lived out their days in the house. They were especially fond of the porches, which were perfectly positioned to capture the harbor breeze. E.P. Jervey was a cotton broker, railroad commissioner, and special accountant. Bella's daughters regularly gave piano lessons in the house, and her sister Sarah (Sadie) opened an elementary school there in 1930. The first and second grade school children enjoyed their recess on the second floor piazza. They must have made a quite a commotion! The school eventually became part of Charleston Day School when it was housed on S. Battery.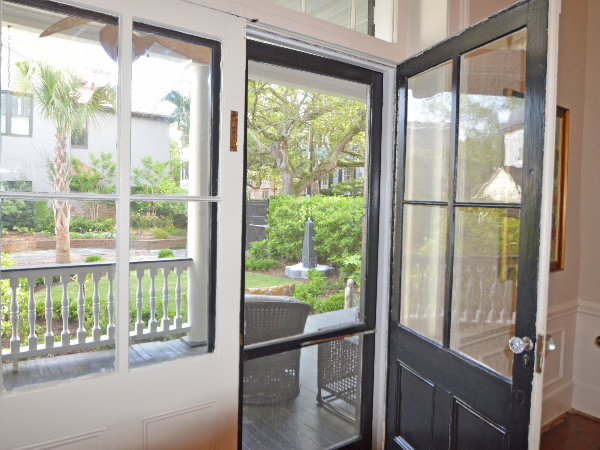 When she was 65 years old, in 1940, Bella signed the house over to her daughter Ann, and thus the home housed its original family for its first 75 years. But it seems the Jervey/Wilkinson/Memminger/Ball/Drayton families have occupied the immediate area for much longer than that!


The 5 bedroom, 4 1/2 bath home has undergone extensive upgrades and improvements in the last year...even if you've seen it before, you need to come take another look. Call Lois at (843) 270-2797.